The fire area across southern NSW, northern and eastern Victoria and the ACT is now approaching a combined 4 million hectares, with widespread damage forming a ring of fire around Mount Kosciuszko and its national parkland.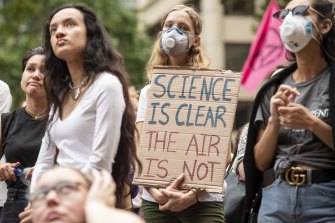 It's estimated that more than 6 million hectares have burned around Australia since the fire season began.
Erratic weather resulted in 30 new spot fires around the state after lightning strikes and heat records began to tumble. Australia experienced its hottest ever day, with a national average temperature of 40.9 degrees recorded at weather stations around the country on Tuesday, December 17 – but that record only lasted until the following day's results were recorded. After Thursday's temperatures were measured, those three consecutive days were officially the three hottest ever experienced in Australia.
The hot air mass that lingered over Australia shifted east with strong winds, making firefighting conditions more difficult. Most of southern NSW became engulfed with flames, and tragically two RFS firefighters – Geoffrey Keaton and Andrew O'Dwyer – lost their lives and a further three were hospitalised when their truck rolled as they battled a bushfire in Buxton, south-west of Sydney.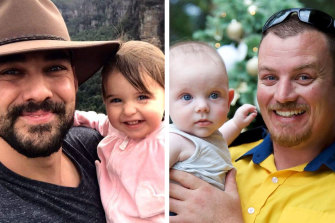 Late December
The fires in East Gippsland began to spread quickly. Just a couple of days before Christmas, residents in several small towns about 350 kilometres east of Melbourne were told to seek shelter as the now almost 37,000-hectare fire began "creating its own weather" on Saturday, December 21.
As a result, Melbourne was blanketed in smoke on Monday, December 23, which would become a recurring theme for the state.
Just after Christmas, fire spread to the Bega Valley area for the first time – where it quickly made its way through thick state forest areas. Eventually, three fires merged with two others threatening to do so as well, and those five blazes combined to become more than 260,000 hectares in size.
Fire conditions rapidly deteriorated near the border as well, as the Burrowa-Pine Mountain National Park was engulfed in flames, and many nearby towns threatened.
On December 30, more tragedy striked the RFS when Samuel McPaul's vehicle rolled over near Jingellic, caused by an "extraordinary weather event" when a "fire tornado" lifted a 10-12 tonne Rural Fire Service truck and flipped it onto its roof, RFS Commissioner Shane Fitzsimmons said.
For the entire week after Christmas, firefighters around both states and the nation's capital prepared for surging emergency conditions on New Year's Eve and would, unfortunately, be vindicated.
The out-of-control East Gippsland fires reached more than 200,000 hectares in size, and the thousands of people in the holiday town of Mallacoota were trapped in the final morning of 2019, with astonishing images showing people stranded on a beach, simply hoping to survive.
The town was in complete darkness at 9am as the fires edged in, throwing embers close to the 4000 people on the beach, with one person describing it as "hell on earth".
Lives were lost on the NSW South Coast in what Mr Fitzsimmons described as "absolutely" the worst bushfire season on record. As more than 100 fires burnt across NSW, Patrick Salway, 29, and his 63-year-old father Robert from Cobargo, inland from Bermagui, lost their lives defending their home.
Almost 90 homes were burnt in Conjola Park, just north of Ulladulla, 40 homes were lost in Malua Bay, south of Batemans Bay, and 15 homes were lost in Rosedale on the outskirts of Batemans Bay, as anyone who did not need to be in the region was urged to leave.
Some towns in the Bega Valley and Shoalhaven were left without drinking water when fires destroyed their disinfection facilities and contaminated the water supply with ash.
January (so far)
As people picked up the pieces on New Year's Day, thousands remained without power, internet or road access, leaving them essentially stranded in towns across the coastline – 15 evacuation centres were opened across the region.
The following day, NSW Premier Gladys Berejiklian declared a state of emergency, handing additional decision-making power to the Rural Fire Service. An area stretching hundreds of kilometres from Nowra to the Victorian border and west to Kosciuszko were declared "leave zones" ahead of worsening conditions on the weekend.
Victorian Premier Daniel Andrews declared a state of disaster and pressured the federal government into using naval ships to rescue stranded people.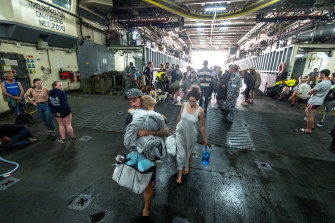 The HMAS Choules would arrive at Mallacoota that afternoon, with more than 1000 people taken on board.
On January 4, the Snowy Mountains area, with its many pine forests, was ablaze, with the town of Batlow evacuated and others put on high alert.
The southern NSW town is now charred by flames that destroyed the old hospital, blew up the petrol station and burnt 17 houses and an untold number of outlying properties.
That same day, it was announced that 3000 army reservists would be called up to work with communities in NSW, Victoria, South Australia and Tasmania.
As the Snowy Mountains burned, the fire also kept spreading south, and there are now fears it could merge with Victoria's massive Corryong fire in the state's north-east. smh